6 tags
I will never do a wedding, I will never do a...
                       One of the most commonly heard pieces of advice whilst going through college and university was study something else….but next to that i was told never to do weddings. It was a fairly common consensus that the stress, pressure and overall hassle of a wedding wasn't worth while. Beep goes the email (hey some peoples email goes beep) and it was a message asking...
7 tags
Strange Brew Gig.....DSLR and Live Music Can...
Having not learnt the lesson from my last venture of recording live video for a gig. I found my self back in a position with my Canon 550D pointing at a stage as a band walked on to perform. How did i get back here?  This gig was a favour to a friend of Elliot who just happens to be lead singer of a rather amazing rock band. The Eastgate Theatre down in Peebles was once again the venue for the...
10 tags
The K Is On The Way
This weekend was a new experience that i won't soon forget. The job was filming a promotional video for a campaign (The K Is On The Way) that is trying to get karate made an olympic sport for the 2020 games. The shoot was a two day event based around the British Open at the Kelvin Hall in Glasgow. The first day was always going to be the toughest day as it was not only our first day on...
DSLR's and Live Performances Don't Mix!
Last night i returned to work after a fairly long lay off. I had the pleasure of recording a fantastic Scottish blues band called The Jenson Interceptors. The gig was fantastic with amazing performances from all members and it was very well received by a near capacity crowd in the Eastgate Theatre in Peebles. Myself and my colleague Elliot decided to shoot 3 cameras (all 550ds because it is our...
"Fade" Day 8 (final day)
The final day was once again a simple shoot, only one set up but this time the set up was a bit more difficult. The shot was to simulate a CCTV camera so the tricky part was height, getting the camera up to (nearly) ceiling height. Thanks to a clever suggestion from Scott our sound man we used two wardrobes pushed together as a base for the tripod which worked suprisingly well. The only problem we...
9 tags
"Fade" Day 7
Day 7 was a day of nerves but not due to complicated set ups or difficult scenes. I had approached my uncle to appear in the project, this might not seem too bad but when you combine working with a family member for the first time with the fact he is a professional actor it adds that little extra dose of nerves. The set ups could not have been easier, only two set ups one of which was a static web...
"Fade" Day 6
Day 6 gave us an impressive location, the Lindsay Stewart Lecture Theatre which is a fantastic modern design and very spacious. Despite the impressive nature of the theatre it actually caused us a problem because the scene was supposed to be a police news conference which meant we had to limit the amount of the theatre we could actually see. This lack of workable area somewhat scampered our...
"Fade" Days 4 & 5
Day 4 was a short but sweet day. The scene was a simple boardroom one with basic shots (wide, mcu, reverse wide) so from a camera persons point of view it was nice and simple. We managed to dress the set, shoot and clean up within a few hours so felt good to work through a scene quickly without sacrificing quality. Day 4 was a strange one it began with the call time being pushed back with suited...
"Fade" Day 3
Day 3 was a good day. It began with that oh so tricky scenario of shooting in and around a car. The scene was fairly simple but the obvious lack of space was a small issue. We persisted in using the PMW-350 (It really is growing on me) but for some shots we had to go back to the 550D as its much easier to use in tight situations due to its size. The second part of the day was spent at the Napier...
"Fade" Day 2
Well day two of the journey was a slow one. That is not as negative a comment as it would appear. I believe a rather lovely Irish drink (which i may have had one too many of in Dublin at the weekend) has the slogan which runs true with "good things cone to those who wait". The day began in the glorious surroundings of Portobello beach with the plan being to pick up a quick sequence of...
8 tags
"Fade" Day 1
Today was the start of Fade, a three part sci-fi drama. The shoot today was all on location at Cammo Estate in Edinburgh so i was prepared for a day of rolling in the mud. The best thing about today (although i certainly didnt think it at the start of the shoot) was my chance of using the Sony PMW-350. The camera itself is an impressive piece of kit but i was suprised to see a Canon lens being...
8 tags
Electric Man UK Premiere
Last night was the UK premiere of the Edinburgh made comic comedy Electric Man at the CCA in Glasgow. I was there along with Elliot Campbell to capture an overview of the event. I shot on my trusty Canon 550D but had the pleasure of using the fantastic Zeiss lenses which are just…unfairly good. For the bulk of the shoit i stuck with the trusty 50mm 1.4 which is a great lens however we began...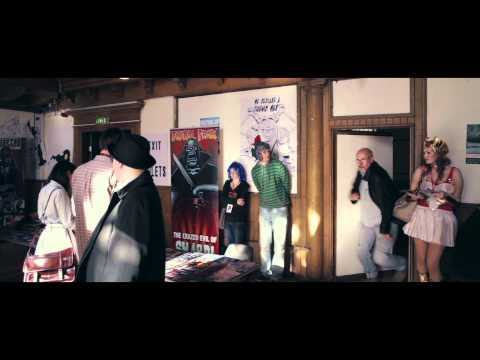 Hello tumblr
Just a quick "hey whats up?" to the world as the journey begins……The entire reason for the blog is actually to act as a test to see 1- how easy/difficult the site is and 2- to explore the potential beyond the blog. Cheery bye world Paul